JEWELRY BUYERS TUCSON Gold, Platinum, Jewelry and Watches
Tired of feeling like you are on a bad reality TV show when you try to sell your stuff? Have you had enough of the cheesy actors and the free vacation gimmicks? Step into Old Pueblo Coin for a FREE APPRAISAL of your gold and silver jewelry as well as diamonds, finer wrist watches, pocket watches and other valuable items. We are gold buyers in Tucson with more than 30 years in business on Speedway Blvd.
How does it work?
Bring your gold jewelry to Old Pueblo Coin
We will sort your gold by karat weight (purity)
We will weigh your gold in front of you
We will give you a price based on the current price of gold.
You are free to check around. No strings. No Cost. No pressure.
Our Golden Rule philosophy is pretty easy to follow. We are consumers as well, and know what it is like to be treated well or treated poorly. We want you to keep coming back.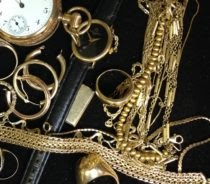 Shopping for Gold Buyers in Tucson?
You may wonder what you should be on the look out for when you are trying to find gold buyers in Tucson. Here are some recommendations.
Consistency

– Any of our trained Gold Buyers can help you and you will get the same results.

Dependability

– Old Pueblo Coin has been a gold buyer in Tucson since 1982! – Don't go to the fly by night (hotel) buyers!

Local

- Old Pueblo Coin is a locally owned business and the majority of our staff are Tucson natives! Shop local!

Experience

- Our gold buyers have over a century of experience to use when buying your gold.

Honesty

– Our gold buyers will sort your gold by karat weight and give you price for each one.
How much gold is in 14K / 18K / 24K jewelry?
Gold jewelry and items have been marked for centuries. Over the years many countries have used imagery of animals, plants and even buildings to tell the consumer who struck the gold and what the purity is.
Today the purity of gold is represented either by percentages or by karats. Both systems are measured in karats, but the numbering systems are different.
The first thing to know is that pure gold is 24 karats. After that it is a matter of math to find out the fraction. For example, a common karat weight in the US is 14k. To see the equivalent in fractions you simple take 14 and divide by 24 to get .58 (or 58%). 18 karat is 18/24 which equals .75. Some times the markings will be 18k and sometimes .750. The same is true for every purity.
8k=.333
9k=.375
10k=.417
14k=.585
18k=.750
22k=.917
24k=.999
We hope this helps you. Old Pueblo Coin are gold and silver buyers in Tucson, AZ. We are happy to pass along years of knowledge so that you are better informed on the ins and outs of gold and silver buying. Check back again soon!